My Office Number  916-773-1657

I live outside of Yreka CA, I will continue to offer  Special Group Rates & Packages Available For Fund Raisers or Radio/TV/Night Club events.

Entertaining at parties/personal residences rate is two hours minimum. Consideration for traveling first 30 miles no charge, additional miles at corporate costs of $.34 a mile.

Event Services such as Book Signings, Media Appearances, Ghost Investigations may not be "Fee Based" but consideration for travel should be discussed.

     A cross-section of professional groups


I have entertained or given a lecture. 
Coldwell Banker Millionaires Group (Squaw Valley and Monterey Banquets, and one special event talked for 13 hours on Amtrak!) ,

Women's Rotary Clubs, Auburn, Roseville

Sacramento Women's Council of Realtors,

Children's Network Fund Raisers,

Old Sacramento City Cemetery (6 years) and Rocklin Cemetery Tours,

Radio and TV spots and interviews,

many mingling dinner parties like the Serrano Golf Championship Dinner, El Dorado CA

Lodi's Midnight Serenade Fund Raiser,

Lecture in classes at Sacramento State College in "Spirituality and the Aging, Coping,"

Senior Center Complexes

Sacramento East/West Book Store (for 10 years a/o 04).

Crystal Harmony Cruise Lines 3 weeks - rated 80% and above for entertaining!

  Over the last 18 years the above list only represents a cross-section of groups not including the private parties, Birthdays, Weddings and Wedding Showers, Halloween, Christmas and New Years Events that I have contributed my talents to make these parties all memorable events.

--------------------------------------------

One of Nancy last in-stuidio radio shows in Sacramento I was on - March 2005, Bugman and Boogie, talking of spirit communication with the Audience. I have a MP3 available of this on-air question and answer show.   Great Show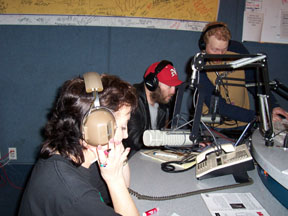 102.5 FM Boogie & Budman Show

3-2-2005    MP3 Coming Soon

Nancy's 2010 Brochure PDF

Phone: (916) 773-1657

Outside of Northern California:

Toll Free Number: (866) 602-8966

Web Site Designed by Nancy/Homestead

Copyright 1996 - Nancy Matz - All Rights Reserved

February 12, 2005 Special Class Presentation!

A friend and I presented a "Play/Class" at Sacramento CA East/West Bookstore.  My Marketing/Business Manager Carlotta Pasco  and I wrote this Play and eventually we'd like to develop this into a screenplay! The Play is called, "A Funny Thing Happened on the Way to the Alter." Together we portray two little old ladies meeting for the first time after 50 plus years after high school. They tell and lie about their lives, and after too much toasting at the wedding they crash on the dance floor. They wake up in heaven and come to realize they must tell the truth of their lives or spend the rest of eternity looking at each other!

We created a DVD and a audio cassette, included with is a handout booklet a lively look at our "own truths". I'll plan on creating this as a E-Book in the near future, including a booklet for a personal life evaluation. Contact me to purchase this presentation.

Carlotta and I would love to develop this as a screenplay if you know anyone interested please let me know!  

Sacramento Armstrong & Getty 650 AM  MP3 Coming

Tom  Sullivan Show 1530 AM Sacramento CA   MP3 Coming

3 Selected BlogTalkRadio

Calif Haunts Shows as guest on

Coming Soon MP3

Few Minutes DVD of Presentation


Coming Soon